Saaremaa recreation area
Saaremaa Recreation Area encompasses the islands of Muhu and Saaremaa and the small islands and islets near them. The fragile and unique wildlife of the islands, rich in relicts, provides excellent and varied opportunities for nature recreation. In order to share in everything, we recommend you to start your visit at  RMK Mustjala nature center and information point.
Camping areas, hiking trails and other places to go
Mihkel Rand´s dendrarium (picture) is located in Pöide parish and is made by village blacksmith Mihkel Rand.  Thirty years of work have resulted in a collection of over 100 trees and bushes. The arboretum is protected under nature conservation legislation.
Koigi hiking trail is located in Pöide parish and is 4,8 km long. There is a parking area, information board and metal boardwalk on tyres. The trail starts 800 m from the parking area. Koigi is the only bog in Saaremaa with wonderful pools and hollows.
Triigi campsite is on the beautiful sandy beach in Leisi municipality on the Triigi peninsula. There is a parking area, 3 campfire sites, picnic tables, woodshed, information board and a dry toilet. Nearby are sights like Karja Church, Angla windmills and Sassi dinner house.
Meiuste campsite is a nice resting place with sandy beach. It is located in Leisi parish and it has 3 campfire sites, picnic tables, 2 dry toilets and 2 woodsheds.
Tuhkana beach campsite is located in Leisi and it has a nice sandy beach for swimming. There is a parking area for 20 cars or 4 buses. Also picnic tables, 2 outdoor fireplaces, information board and a dry toilet in the parking area. Tuhkana is known as the best sandy swimming beach in Saaremaa. 500 m to the beach, access only along the boardwalk. Volleyball court on the beach. Good mushroom and wild berry forests around.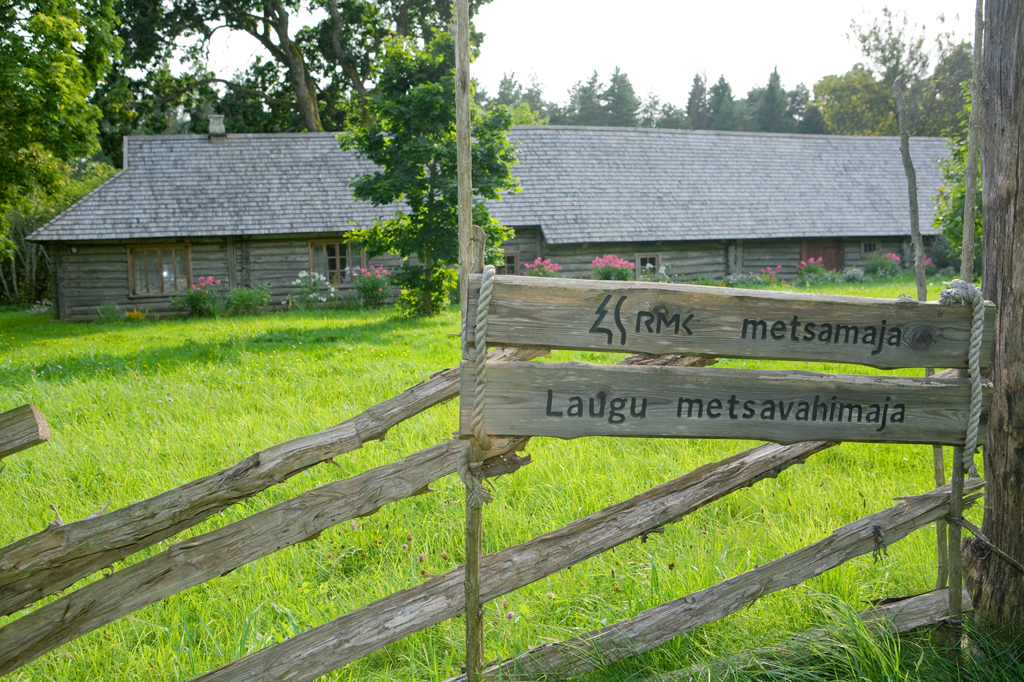 Laugu forest keeper´s cottage(picture) was built for the military forest ranger in 1856. This old, 32-metres long farmhouse has been in service of Estonian forestry for 150 years, regardless of the political regime. Today the building serves as the cultural heritage and nature education centre of RMK Saaremaa Recreation Area, in which visitors learn the history of the Estonian forestry and explore old forestry techniques. There is a big parking area, picnic tables and a fire ring.
Ninanuki forest hut is located in Triigi peninsula and there is a parking area for 5 cars. The hut is 500 metres from the parking place. There is a table and benches and a fireplace in the hut. The hut has room for 4 people. Outside there is a picnic table, dry toilet, woodshed and an outdoor fireplace. Near the hut is a beautiful sandy beach and a pine forest. Use of the forest hut is free of charge for visitors.
Küdema and Lepakõrve kurisu´s
are in Mustjala and they are the largest karstic features contamination in Saaremaa. This represents up to 35 meters in length and 5 meters in depth ovoid sinkhole.
Kalja hiking trail introduces the karst area in Mustjala parish. There are 7 large sinkholes, the largest of which is 18 m in circumference and 5.5 m in depth. It is an interesting natural phenomenon during the spring flood. Near the karst area the interesting old Selgase dolomite quarry and the Küdema doline (sinkhole) can be found. Marked hiking trail (blue markings), with descriptions of points of interest.
Konati hiking trail (1 and 3 km) introduces forest management, cultivated pine forests, protected forests and old indigenous trees. Parking by the Mustjala road or by the Konati campsite. At the start of the trail by the road there is an information board and instructions. The trail is signposted and the points of interest marked. Possible to choose the shorter or longer trail: 1 km or 3 km. You can walk the trail on your own or with a guide.
Kalasma hiking trail and campsite is located in Mustjala and is independently passable, marked with yellow ribbons and points of interest information. The track is 5.4 km long and introduces the coast and its development. Campsite has picnic tables, a shelter,  ampfire site, dry toilet and a woodshed.
Veere camping sites are located on Pidula highway. There are nice campfire rings on the seashore with benches and information boards. Also dry toilets and woodsheds.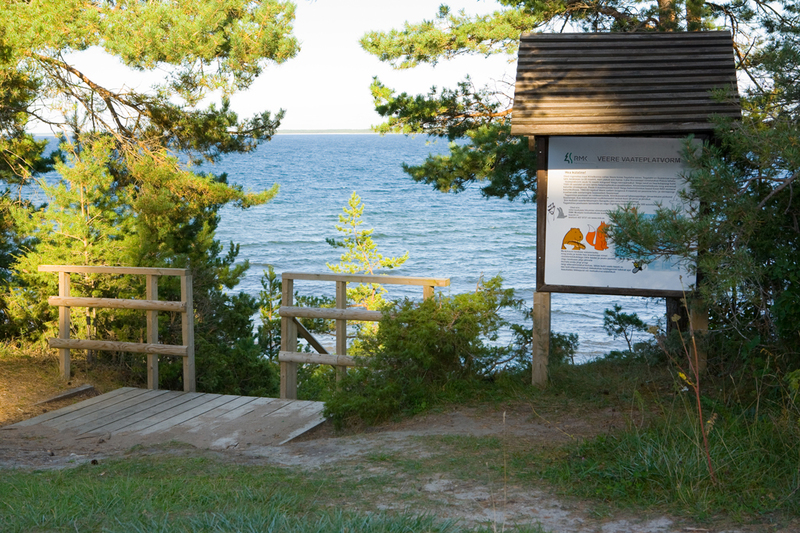 Veere observation platform(picture) offers a good view of the sea, especially in the evening, when boats arrive at the harbour. The nearby sights of interest include the Harilaid peninsula with the tilted lighthouse of Kiipsaare, the interesting wooded meadow at Tagamõisa, Kihelkonna church,Mihkli Farm Museum, Viidumäe Nature Reserve and Loona manor, which houses the centre of the Vilsandi National Park and RMK information point. Near the platform is an information board and stairs to the sea. No campfires allowed.
Viidumäe study trail starts from the center of Viidumäe Nature Reserve Centre, which is located 28 km  from Kuressaare. The trail is 1.6 km long. Viidumäe Nature Reserve is home to over 660 species of vascular plants, among which 59 rare species are under protection in Estonia. The most famous of these is the endemic Rhinanthus osiliensis, a species of rattle. The escarpment is surrounded by a belt of springs, 70 to 80 according to the count. In some places crooked oak trees grow in the understory of pine forests. Bogs and fens cover about 10% of the nature reserve. Parking for 5 cars or a tour bus at the start of the trail. Also information board, arrow signs and points of interest.
Where to go next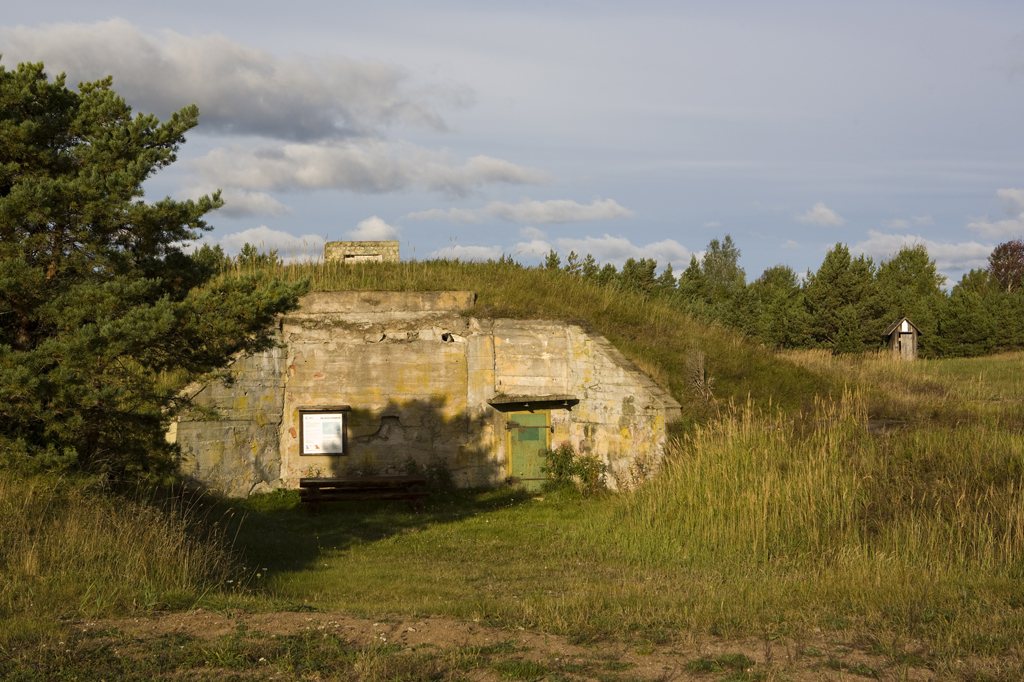 Dejevo bunker and camping area is located near the lake Karujärv. It is a fixed up military underground building, which can accommodate up to 60 people. Outside is a large camping area with a barbecue area, benches, tables, and three dry toilets. In the forest is a 9 km long marked trail for cycling and hiking; skiing in the winter.  Great place for meetings, reunions and other events. The nearest swimming beach Karujärv is  1.5 km from the camping area. Nearby Kärla Church and Suure Tõllu kerisekivi.
Harilaiu resting place is located in Kihelkonna parish, 50 km from Kuressaare.  There is also a hiking trail that leads to the lighthouse Kiipsaare. There is a woodshed, outdoor fireplace, picnic table, camping area for tents and a dry toilet. Motorised vehicle traffic is prohibited!
Kulpri camping site is located in Kihelkonna parish, on island Vilsandi.  It is known as a beautiful sandy beach perfect for camping or swimming. The camping site has two bench tables, fireplaces, information stand, a dry toilet and a woodshed.  The beach near the site is public and local people use it for swimming.
Elda camping area is located in Lümanda parish, Atla village.  On both sides of the campsite there are Silurian cliffs and ivy on them. A beautiful view on Vilsandi National Park aquatorium and the most western islet of Estonia. A good point for watching seals, birds and butterflys. There is parking area for 10 cars, information boards, covered bench tables, covered beds for fire, shed and an outhouse. Camping area belongs to the Vilsandi National Park. Please visit the Elda cliff on foot, walking along the seashore or taking the paths leading to the top of the peninsula across privately owned lands.
Käkisilma camping area is located in Lümanda parish, Kuusknõmme village. It is a seaside camping site with a pineforest. Nearby parking area and 10m high wooden observation tower.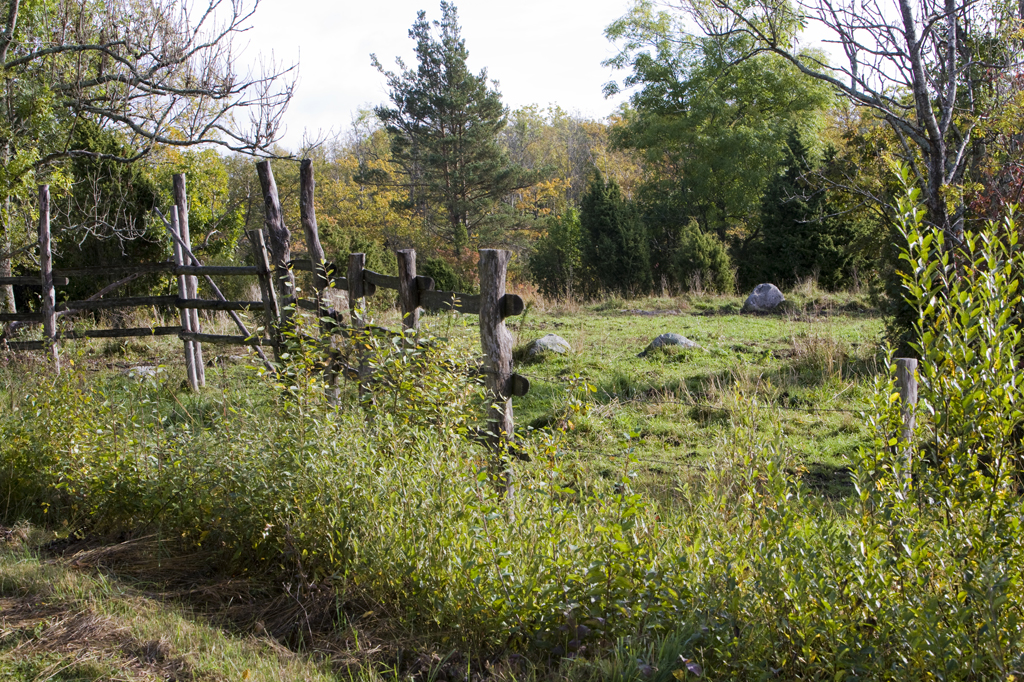 Loode oak stand study trail (picture) is in Nasva village, about 3 km to the south-west from the centre of Kuressaare. The oak belonging to the oldest generation of the Loode oak stand, dedicated to the linguist Johannes Aavik, was measured to be 450-500 years old in October 2000. The oldest generation of the oak stand is presumably formed of trees that remained from the shipbuilding campaign initiated by Peter I. The start of the trail is accessible by any means of transport. Parking for 2-3 buses or 10 cars. Information boards are in the beginning of the trail and on the trail. Several rare species grow in the oak stand. 14 orchid species have been found there.
Keskranna resting place is located in Kuressaare-Sõrve highway, parking lot is located on the left side of the road. Nearby is a long and beautiful sandy coastline, pine forest and an interesting flora of rare plant species. Footpath leads to the sea. The place has an outhouse, bench and two clothing cabins.
Järve recreational area is located in the area of ​​Salme, in Järve village.  The area has a long golden sand beach and a pine forest with interesting plants.  It is forbidden to make a campfire and  drive a car in the area.
Sopi forest hut is 30 km from Kuressaare, on Kuressaare-Sääre road. This is the earliest known forest keeper's place in Saaremaa, dating from 1795, when Campenhausen prepared the first forest management plan for state forest and appointed Kiviste Andres as the forest keeper of Sopi forest. Around the hut there is old-growth forest with interesting erratic boulders, former anti-tank lines, old stone farm fence; the access road is built on brushwood. The hut can be used all year round. The hut can accommodate 3 people. There is a table, benches and fireplace in the hut. Dry toilet, woodshed and outdoor fireplace. No drinking water available.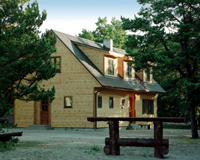 More sights: Lõo-Kaugatoma alvar, Sõrve lighthouse, Ohessaare cliffs, Stebel coastal defense battery, Lõo anti-tank line ja 1 km long Lindmetsa hiking trail. Also Viieristi hiking trail that starts from Sääre highway and leads to  spring named Võluallikas. Viieristi terrace is mostly covered with pines.
More information about the south-western Saaremaa is available at Mändjala Nature House, which  is located by the Suur Katel Bay in RMK Saaremaa Recreation Area.