Ruhnu island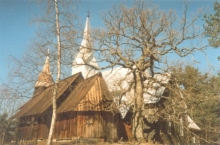 The island of Ruhnu is an independent parish. Ruhnu is 11.4 square kilometers in area, it is 37 kilometers from the closest spot of mainland, Kuramaa in Latvia. It is 70 kilometers from Kuressaare. The population is around 60 people.

The first historical mention of Ruhnu is in 1341 by the Bishop of Kuramaa. The Bishop affirms that the Swedish inhabitants of the island have the right to live on the island as freedmen and not as serfs belonging to a manor. All of the Swedish inhabitants of Runö, as it is known in Swedish, left for Sweden in 1939-40 when the Soviets occupied Estonia.


The Runhu wooden church, built in 1644, is one of the oldest wood constructed buildings in Estonia. The church's baroque-style tower was finished in 1755. The stone church next to the wooden one was built in 1912 and that is where services are held.

On the highest point of the island, Haubjerre hill, there is a unique metal lighthouse. The necessary pieces were constructed in France and it was assembled on Ruhu in 1877. Ruhnu also has one of Estonia's deepest drilled wells, 787.4 meters. The water is very salty and it is said to have curative properties. The Ruhnu forest is of interest, where there are many unique and protected plant species. The best beach for swimming is Limo beach, with its "singing" sands.

The Ruhnu,s harbour Ringsu is renovated to be a guest harbour.

Ferry connections are regular to Pärnu and Roomassaare (Saaremaa).
Ferry information  www.veeteed.ee. When there is no navigation for boats there will be plane routs to and from Ruhnu.



Homepage http://www.ruhnu.ee/