Paatsa ring fort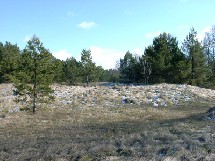 The remains of a large forge were also discovered close to the settlement. The forge had burned at least four times and had always been rebuilt in the same place.

Further, the large quantities of iron slag and bits of raw iron discovered at the site indicate a close relationship with the nearby Tuiu - Pelisoo ancient iron smelting area.

In the uppermost layer of the burned forge there were discovered four silver Swedish and German coins dating to the first half of the 14th century. This helps to date the final destruction of the forge and settlement to the years 1343-1345. These were the years of St. George's Night uprising, when the native Estonians rebelled thruout Saaremaa and Western Estonia against their foreign rulers and oppressors.