Koguva village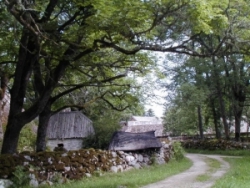 Koguva village is located on the island of Muhu, on the Kuivastu - Kuressaare road at the 15 kilometer mark, and then left approximately six kilometers.

Koguva village is the best preserved 19th century village in Estonia. All of the buildings are architectural landmarks. Most of the buildings date from the 19th century. The oldest buildings, dating to the 18th century, are in the middle of the village.

A typical Saaremaa farm consisted of a threshing barn/dwelling house, storehouses, a sauna, stables for animals, and a summer kitchen. Very often the farm also had a smithy. There were separate storehouses for grain, meat, fish and clothing. The number of storehouses depended on the wealth and size of the farm family.

The stone fences found throughout Koguva village are over 200 years old.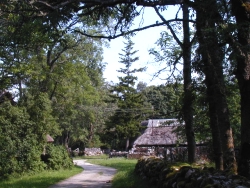 The family home of writer Juhan Smuul, Tooma farm, is a museum. The beginnings of the village of Koguva can be tranced to the year 1532, when Walter von Plettenberg of the Teutonic Order gave 2.5 ploughshare size farm to Hanske, one of Juhan Smuul's forefathers. During the 1930's over 150 people lived in the village, more than 100 were named Schmuul.

As mentioned before, most of the buildings date to 1880-1930. The oldest building is in the middle of the village - the storehouse of Andruse farm. The northern half of the storehouse was built before Andruse and Tõnise farms separated, the only tool used was an axe and it dates to before 1702.

One section of the Laasu farm storehouse was built in 1776. The oldest part of the Tõnise farm storehouse dates to 1778. Apparently there is much truth to the folk wisdom that taught old men how to fell trees - the logs have lasted undamaged for over two hundred years.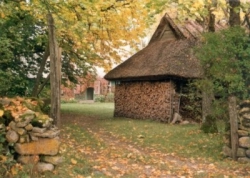 The village also has several stone buildings, of which the Sumari (1899), Välja (1905) and Vanatoa (1910) farm buildings deserve mention. When it was usual for unmarried girls in Estonia to sleep in the clothing storehouses during summer months, on the island of Muhu special "sleeping barns" were built. These buildings had plank flooring and larger windows. The most common type of sauna on Muhu island was the 'manure sauna' , which was also the sheep barn. When the family wanted to have a sauna, the sheep were chased out, straw was spread over the manure, and the sauna stove was fired up. The manure made the 'manure' sauna especially warm.

It should also be mentioned that aside from the one museum complex, Koguva village is a lived-in village. It is home to the villagers of Koguva.