Eemu windmill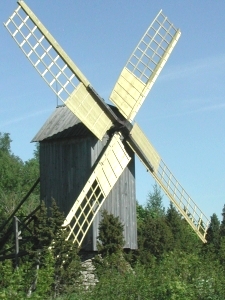 Eemu windmill is located on the island of Muhu, in the village of Linnuse, one kilometer from the dam that connects Muhu and Saaremaa, towards Kuivastu. The windmill can easily be seen by the side of the road, driving from Kuressaare to Kuivastu.

The windmill was built by Jüri Ling on the traditional windmill site of the neighboring farm. It was opened to visitors on 17 May 1980.

These small farm windmills are typical and unique only to Western Estonia and the Islands. Parallels can be found in peasant architecture in Scandinavia and Western Finland. Although the windmill is no longer an economic necessity, the wooden windmill has remained as a symbol of Saaremaa, it enriches the landscape, and its turning in the wind reminds us of the work and love of place and land of our forefathers.

The precursor of the windmill was the quern or hand mill. First water, and later wind was harnessed to turn the millstones. The first evidence of windmills comes to us from 12th century Western Europe. In Old Livland, of which Estonia was a part, they are known to have existed by 1330. The little wooden windmill of which Eemu is an excellent example, is the oldest type of European windmill.