Culture
The people of Saaremaa have always been keen on following the traditions and keeping the culture of their ancestors. Thanks to the isolation, many of the old traditions that have been abandoned on the mainland quite some time ago, are still alive on the islands. Folk music, folk dances and choir singing have been popular for ages and continue to be today.

Saaremaa is rich in cultural events and there are possibilities to participate in cultural activities all over the county. We have:
31 culture centres and houses
31 libraries
11 museums
12 open air stages
3 music schools
1 art school
14 places for cinema performances
1 amateur theatre
1 semi-professional theatre



There are over 200 culture groups in the county, including music, singing, dance, drama, art and different other hobby groups. Spread over the county, there are 17 Societies of Estonian Culture. A number of different traditional cultural and sporting events take place all year round.

There are opportunities to participate in various sports on Saaremaa and those interested in different sports have joined a number of sports clubs.


MEDIEVAL CHURCHES IN SAAREMAA


Saaremaa`s special rustic scenery is made of landscape covered with juniper shrubs, old stone hedges, farmhouses with readied roofs and old windmills. But like beautiful pearls you can see medieval churches.

Like memorials of high culture they rise over trees in parochial centers in Muhu, Valjala, Kaarma, Karja, Kihelkonna, Pöide, Püha and etc. Decorations made from local dolomite stone are rare art pieces. Entering those sanctuaries one is impressed by sculptures and carvings made by unknown masters. You can sense the energy and harmony.

Muhu church built in 13 century is a splendid example of Gothic style with harmonious proportions in its compositions and old mural decorations.
Pöide church could equally well be described as a fortress.
Valjala being the oldest stone church in Saaremaa is representative of the best in Estonian rural architecture.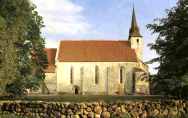 Abundant sculptural decorations in Karja church without doubt are true pieces of craftsmanship.
Kaarma church is unusual in having two aisles, when most churches of Saaremaa are with one aisle.
Kihelkonna church dating originally from the 13 century has a remarkably well preserved altarpiece carved in 1591. But also the oldest carved wooden pulpit (1604) and organ (1805) of Saaremaa churches. Bell towers built beside the church rather than as part of it were common in the 17 -th century but this is now the only one remaining on Saaremaa.