The market for business and production
Saaremaa is one of the most popular tourist destinations in Estonia and the number of visitors here is about 400,000 yearly of which 70% are domestic and 30% are foreign tourists. The biggest group of foreigners are visitors from Finland with 60%, followed by visitors from Latvia, Germany, Great Britain and Sweden. About 80% of the domestic and 50% of the foreign tourists visit Saaremaa several times. Saaremaa is a popular place to spend holidays with the whole family. Different target groups, like bird watchers, hunting tourists, people interested in ethnology, visitors to Kuressaare Sanatorium for mud treatment, bikers etc. find their special interests met in Saaremaa.

Figure 8: Distribution of age groups of visitors to Saaremaa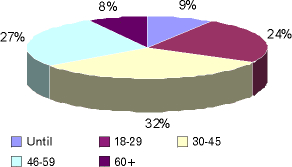 Figure 9: Different accommodation types, according to the number of beds in Saaremaa County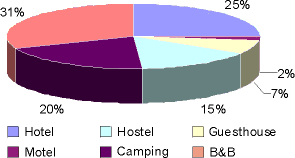 The main engines for developing the recreational industry on Saaremaa are its nature which dispalys a great diversity, as well as a number of historical and cultural sights. Saaremaa County is a part of the Biosphere Reserve of the West-Estonian Archipelago that is an area included in the UNESCO Man and the Biosphere Programme. The Vilsandi National Park, rich in bird species and the oldest nature reserve in Estonia, established back in 1910, is located in the county. Another popular place to visit here is the Viidumäe Nature Reserve that has been established to protect different landscapes and associations.
Another of the main attractions of Saaremaa is the Kaali meteorite craters, the most easily accessible craters in Europe. The mediaeval Kuressaare bishopric castle-fortification, a unique one in the Baltic countries, and well-preserved villages with their traditional architecture and cultural landscape attract many visitors. Health tourism is another important tourism sector. There are substantial curative mud reserves on Saaremaa. The mud is of high quality and the history and traditions of its use are 160 years old.

The tourist high season is from May to August. The county is interested in investments in health and conference tourism but also in other undertakings that would enable an extension of the tourist season.

There are about 300 accommodation facilities with about 6000 beds in Saaremaa County. 69% of these facilities are of B&B type, 8% are hotels, whereas 25% of beds are in hotels. Most of the accommodation places are located in Kuressaare (38%) or at the distance of 20 km from the town (32%).