from Virtsu to Kuivastu ( and you get to MUHU ).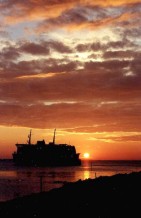 The car and passenger ferry from the mainland port of Virtsu is operated by TS Laevad. Exact schedules for the ferry can be checked on the web-site www.praamid.ee

The journey takes about half an hour. It is useful to pre-book car spaces at peak times such as Friday afternoons to the island and Sunday evenings back to the mainland. Ferryes Booking and information center helpdesk phone numbers are : short dial in Estonia 1310 (0,22 €/min) or +372 618 1310.




How to travel from Tallinn to Saaremaa?

By bus:


By plane:


Ferry schedule: