from Virtsu to Kuivastu (  and you get to MUHU ).

Link to trip information: Getting there!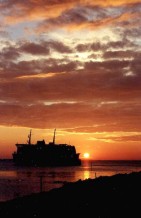 The car and passenger ferry from the mainland port of Virtsu operates hourly to Kuivastu port at Muhu in the summer and every two hours during the rest of the year. Exact schedules for the ferry can be checked on the Saaremaa Laevakompanii web-site www.tuulelaevad.ee

The journey takes about half an hour. It is useful to pre-book car spaces at peak times such as Friday afternoons to the island and Sunday evenings back to the mainland. This can be done by travel agents abroad or local ones. Bookings can be done also by phone. Ferryes Booking and information centers phone + 372 45 24444. Straight in harbours Virtsu phone + 372 47 75 020; Kuivastu phone + 372 45 45 432.

However, it is much more economical to take the bus from Tallinn to Kuressaare and to pre-book car hire on Saaremaa as prices there are much lower than on the mainland. The bus service operates at least seven times a day, the total journey time being four hours.

There are twice a day services to Pärnu and Tartu. A car and passenger ferry service operates three times a day from Triigi to Sõru on Hiiumaa Island and local buses connect with these services on both islands. Flights operate usually on a Friday and Monday between Kuressaare and Tallinn and in the summer there is also a service to Pärnu.


How to travel from Tallinn to Saaremaa?

By bus:


By plane:


By car: