The First Tour - from the Central Square (from the Town Hall) along Lossi Street to the Kuressaare Bishopric Castle.

On your left, you can see an administrative building where The House of Nobility In 1976, a balcony with dolomite columns was attached to the 18th century classicist building with broad cornices, a line of pilasters and arched windows.

Opposite this building there is a monument in honour f those islanders who lost their lives in the War for Independence (1918-1920). The monument was erected in 1928 and was one of last pieces of art made by the well known Estonian sculptor A. Adamson. Soviet soldiers destroyed the monument twice, in 1941 and 1945.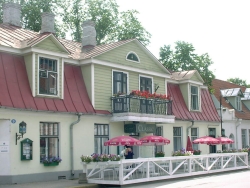 At Classic coffee in Lossi Street you can take the turning to Kitsas Street where you will find a nice antique shop. Moving on towards the head of the street you reach Raekoja Street where the Saaremaa Department Store is located.

7 Lossi St., the Saaremaa Police Station today, and 6 Lossi St., known as the old bank building represent the classicist style as well. The last mentioned one was restored by the Bank of Estonia which owns the building.

A short way further, is a late - classicist building. The orthodox St. Nicholas church, built in 1790 is the oldest building of the type in Saaremaa. The three - part gate to the church yard shows a strict beauty, skilful stonework and an artistical forging. In the middle of the 19th century, the orthodox religion began spreading all over Saaremaa, from here.

Soon we reached the town park that was created in 1861 on the open area around the castle. During the period when Kuressaare was gaining fame as a summer resort, the Resort Club, an entertainment was built in town park in 1889.

Saaremaa Museum, founded in 1865, is located in Kuressaare Bishopric Castle which was built in the 14th century. The ancient castle is surrounded by forts from the 15th - 18th centuries. In the restored castle you can view extensive exhibits of the history and nature of Saaremaa, visit art exhibitions and listen to different concerts.

You can walk back to the centre along Tolli and Lasteaia Streets.