St. Lawrence's Church of Kuressaare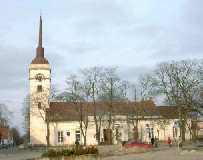 Three buildings dominate the central square of Kuressaare. Next to the two buildings dating from the period of Swedish rule - the town hall and the public weights house - stands the church of St. Lawrence.

This was not the first church to be built in the town: there had been a medieval church, which was destroyed in a fire, near the stronghold on the site of the present castle park. Probably quite soon after the fire, a building site was acquired near the central square and the building of the new church seems to have been completed in the 1630s. It was a modest rectangular building, the walls of which make up the nave of the present church. The church was damaged by fire in the Great Northern War (in 1710) and was reconstructed during the subsequent decades (consecrated in 1729). In the course of the reconstruction work a choir was added. In 1828 the church was again ravaged by fire and was rebuilt under the supervision of the architect Heinrich Löwener in 1835 - 1836, when it acquired its present appearance.

View of the church from the northwest
An interesting feature of this modestly designed church is the spire of its neoclassical tower. This is a somewhat provincial version of the Empire-style needle spire, which was quite popular, for example, in St. Petersburg. The three dates on the weather vane - 1774, 1835, and 1933 - refer to the construction of the earlier Baroque spire, the reconstruction of the church and the latest large-scale repairs of the roof of the tower.

Interior
The provincially modest neoclassical room is more reminiscent of a secular hall than a place of worship. It is covered with wooden vaulting and there is a gallery, supported by monolithic dolomite columns, running along the three sides. The altarpiece, which resembles a Classical portico, is also made of dolomite. The altar painting was made by the prolific and in his time highly esteemed artist, Carl Siegismund Walther (1783 - 1866).

Anseküla baptismal font
The font that is now in Kuressaare church is a unique example among the medieval fonts of Saaremaa. It originates from the church of Anseküla, which was destroyed in 1944. The font is decorated with fantastic animals and other creatures representing evil spirits. The two lines of the pattern are interrupted on one side of the font by a larger animal with a three-forked tail, which has risen onto its hind legs. It is supposed that it indicated where the priest stood during the baptismal ceremony. The forms of the decorations point to its Gotland origin. The font probably dates from the beginning of the l5th century.
Homepage http://www.eelk.ee/kuressaare/